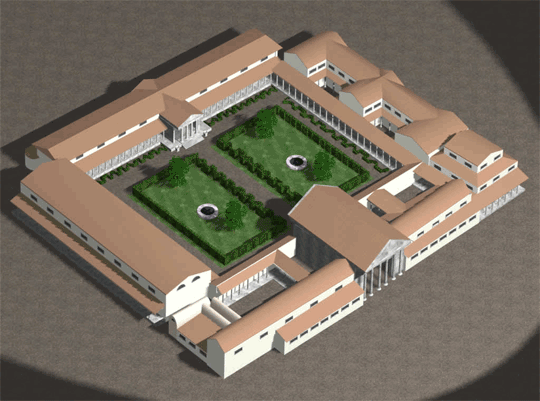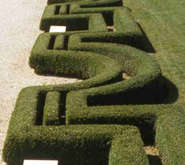 The first thing a visitor to the palace saw on entering through the east entrance was a garden leading to the reception hall at the west end of the building. They had to walk the length of this garden to the doorway, and so passed the many splendours on the way. This garden had flower beds laid out in a stunning fashion. Fountains placed at aesthetic locations beside the gravel paths were fed by lead pipes carrying water from a spring outside the grounds.
The entrance hall was reached by ascending a flight of stone steps and entering through a 40ft (12m) high porch graced by four carved columns. Inside was the audience chamber where guests were received upon a floor made of an intricate mosaic depicting scenes from Roman history that spread from wall to wall. The ceiling was painted in red, purple and blue. Around this chamber were exquisitely furnished suites for guests.
From the entrance hall, they went into another garden which had a 30ft (9m) wide path with shrubs along each side. In between the shrubs were recesses with more fountains built of Purbeck stone and marble statues were situated.
In the north wing were two courtyards flanked by more guest rooms. These had mosaic floors and were inlaid with marble from the far east of the Roman Empire. To the north-east was the great assembly hall which was 80ft (24m) long. Eight colossal piers divided the hall into aisles and supported the 100 ton plus (101,818kgs) roof. At the base of some of the columns were carved statues of classical Roman figures.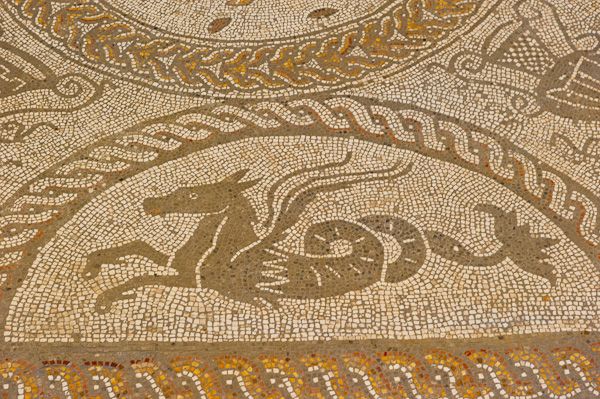 In the east wing were two more courtyards with ten rooms. These were of a simpler design, not so elaborately furnished so indicating they were used for the helpers who accompanied the distinguished guests.
The most stunning part of the palace was the south wing which was next to the bath house and was probably where the owner and his family lived. This part of the house was between two patios, one with a magnificent view of the gardens, the other looking towards Chichester harbour. Here the owner kept his boats and strolled amongst the glorious gardens.
To build the palace must have been a monumental task considering the materials used and the distances these were transported. The excavation work for the foundations alone meant some 360,000 cubic ft (36,576 cubic metres) of soil had to be removed. There were 160 stone columns in the palace and 50 mosaic floors which were built by imported craftsmen. The materials along with the problems of design, organisation, and transportation, mean this was a task of epic proportions. From the design, it is clear a top architect was brought in from Rome to design the palace.