Roman recipes
Fried carrots
(Pastinacae)
By Anthimus: On Foods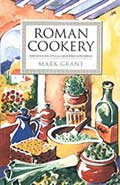 Yeah, go ahead and click
here
to buy this book!
Roman Cookery
: Ancient Recipes for Modern Kitchens
Modern carrots are different than in Roman times — for one thing, they were white, which is why they are referred to with parsnips in recipes and, they had a more woody center.
AFAIK, this recipe comes from AFAIK, this recipe comes from Grant and was inserted by original site author (have I not said to buy these author's books? Please do so and support them.... Hopefully, will not get a nasty letter about this)...
Original recipe:
Translation: Parsnips and carrots are good when boiled well and mixed in other dishes. They are also diuretic. If the are eaten fried, parboil them first in water.
Ingredients
500g/1 lb carrots
Olive oil for frying
Sea salt (optional)
Preparation
Wash and peel the carrots, cut them into strips and steam gently for 10 minutes.
Heat the oil in a frying pan and fry the carrots until they begin to turn brown.
Serve hot, sprinkled with salt if you wish.