Recipe for Mulsum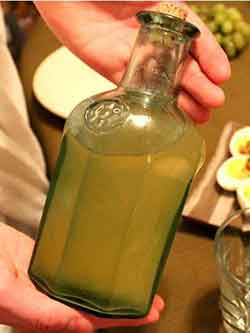 The sweet Roman drink mulsum, a mixture of wine and honey, was a favourite drink in Roman times. Mulsum or honey wine (also sometimes called mead) is an archaic recipe. In fact, it's the oldest alcoholic drink in the world. Honey-infused wines, known as mulsum in the Imperial Roman era, were served as pre-dinner drinks at Roman parties. It was rare for recipes like this to include precise quantities for the ingredients, suggesting that it was developed for medicinal purposes.
In the ancient world, most wine produced was bitter because wild grapes weren't as sweet as the hybrid grapes used today. To sweeten the wine, Romans added honey. To make wine more acceptable for regular consumption, they also diluted it with two parts water. The result was a sweet and refreshing drink with very little alcohol; a bit like spiked punch.
The process of making Mulsum dates back thousands of years. It's traveled many roads since, but hasn't changed much. Each culture since ancient times seemed to embrace the simple and rustic nature of this drink, adding their own special touches yet keeping the authentic characteristics intact.
You can add spices to this recipe, just like they did.
Honey
White Wine (Medium dry

Add half a cup of honey to a bottle od medium dry white wine.
Store in a very cool place and bring it out just before serving to ensure the cool chilled taste is retained.