For the seasoning:
For the sauce
Ground pepper
Celery seed (or Lovage)
Pinch of caraway
Pinch of fennel
Rosemary (or rue)
Pork or chicken stock
Red wine
Butter or olive oil
Flour
Celery seed, ground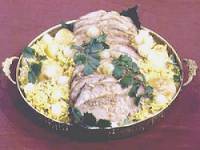 Roast Pork in Celery Seed Sauce
(The finished product)
Prepare the roast pork by first wiping the meat, then sprinkling it with cumin several hours before cooking.
Roast uncovered in a very hot oven for 35 min per pound.
For the sauce
Grind together pepper, celery seed (or lovage), caraway, fennel, and rosemary (or rue). Blend with stock, red wine, and butter or olive oil.
Put the sauce in a pan, bring to a boil, then simmer slowly for 25 minutes. Thicken with flour.
Remove the finished roast from the oven and sprinkle it with celery seed.
Slice the meat and serve with the sauce.