Looking at Britain by the end of the first century, we can see an island that had been invaded and for a while was a small province having only been occupied in a small South Eastern territory by the Romans. By the end of the century, Britain was all but conquered, just the West and North of Scotland remained in tribal hands. The once savage tribes had been turned into Romans. Roads were in Place, elaborate buildings had appeared. There was still more to come.
During the period 70 to 130 AD., London in particular had grown in scale to the point where it was now a municipium. A governors house and a fort had been erected along with an amphiteatre. It is interesting to note that this last construction was not found until 1987.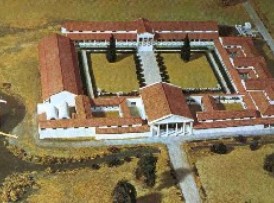 Fishbourne, near Chichester had a military establishment, which was demolished and replaced by a timber framed villa, which was later replaced by a stone villa. Around 80 AD., a palace was built. It is noticeable that the standard and size of this was well in advance of anything else in the country. This leads historians to believe that it was occupied by a senator, or even an emperor. Maybe it was used as an official building, on a par with the governor's palace in London. Vespasian had introduce two legal commissions to Britain about that time, Salvius Liberalis and Javolenus Priscus.
Fishbourne is so far unique, or sui generis, which means that it was strictly a one off venture.
The other findings of that time, lead us to believe that the Romans took on a program of centralisation of the natives. Britons had built many villages and settlements, scattered around their own tribal domains. The Romans tried to educate them in to the Roman way of life, which included larger towns were the inhabitants were much closer together. The leaders of the tribes, would be allowed to retain their country dwellings, or have larger houses in these towns. This would pacify them , so making them more agreeable to the Roman plans. Owning a large area of life was a prime factor for the Roman upper classes, and so this was extended to the upper members of the British tribes.
Outside the towns, the farms that required vast amounts of land by their very nature remained unchanged from their pre Roman days till now. The grand buildings outside the towns were most certainly, rebuilt in the Roman fashion and standards.
The last third of the first century and the start of the second were significant for the changes made on the British way of life. The conquest was to all intents and purposes complete, so now attention turned to changing the land into a true Roman province.