Recipe for
palathai
(Dried Fig Cakes)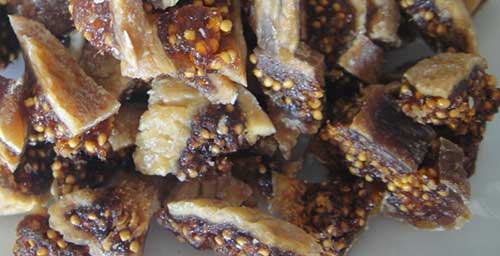 from The Suda Lexicon
Yeah, go ahead and click

here

to buy this book!

Roman Cookery

: Ancient Recipes for Modern Kitchens.

Yes, this book has a new cover, but I like this one better. Blah, I am so horrible.

AFAIK, this recipe comes from Grant and was inserted by original site author (I will say again to PLEASE buy these author's books! By doing so, you will help support them — even for books that are older and might not sell as well anymore... These authors do not do this for money, they do it for love. Please support them!
A good simple, ancient recipe and, this is, without a doubt, one of the easiest ancient recipes you could ever try! These no-bake cakes, developed in early Greek and Roman times, are still popular in Egypt and Turkey today. These provide the inspiration for the completion of this dish, for the ancient description as it stands is surely incomplete, since figs squash together on their own are sticky and awkward to store. Also, the softer the dried figs the more palatable the cakes, since the pips of old dried figs can be unpleasantly crunchy.
As a side note, you can find similar fig cakes sold at cheese shops and Whole Foods for astronomical prices — why pay that wehen you can do it yourself?
The Suda Lexicon, A 10th century encyclopedia chronicles the ancient recipe
Original recipe:
Translation: Palathai are cakes made of figs. And cakes of palasiai, that is of dried figs that have been squashed.
Ingredients
400g/14oz dried figs
1 tsp ground coriander seeds
1 tsp white flour
Preparation
After removing their stalks, put the figs in a blender and blend to a paste.
Remove the paste from the blender, flatten and shape it into a round.
Mix together the flour and coriander seeds. Dust the outside of the fig cake with the flour and coriander mixture.
Cut into slices and serve.