Apioi eis Kykliskous
(Dried pear pudding)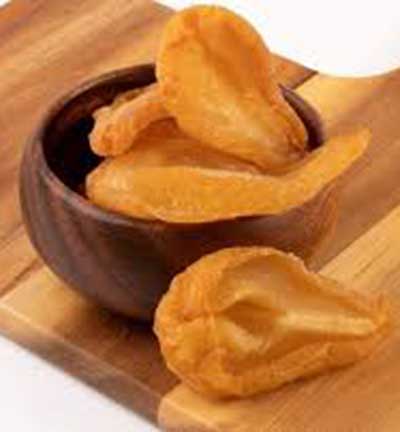 by Galen, The Power of Food Die alimentorum facultatibus
Accompanied by cream, this recipe makes a pleasant fruit salad. Galen believed that food and diet controlled one's health. It is increasingly recognized today that food and diet are important aspects of culture and that understanding a society's food related customs and ideas contributes in important ways to the understanding of its social and cultural history. Anyway, thisi s a recipe. Try it or do not.
Original recipe:
Translation: They slice the pears into thin discs which they dry and store away. When food is short during the winter and spring, they cook these discs as a substitute for foods that contain little nourishment.
Preparation
Gently braise the dried pears in a little water until they are plump.
Cool and serve with the resulting juice.