Recipe for Isicia ex sfondilis
(Shellfish Forcemeats)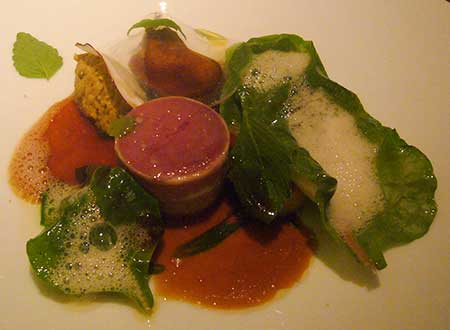 by Apicius II, I, 6
Yeah, go ahead and click here to buy this book!
The Roman Cookery of Apicius
AFAIK, this recipe comes from Edwards and was inserted by original site author (I will say again to PLEASE buy these author's books! By doing so, you will help support them — even for books that are older and might not sell as well anymore... These authors do not do this for money, they do it for love. Please support them!
Forcemeat is a mixture of ground, lean meat mixed with fat by grinding, sieving, or puréeing the ingredients. The result may either be smooth or coarse, depending on the desired consistency of the final product. Forcemeats are used in the production of numerous items. Forcemeat is now considered an indispensable accompaniment to most made dishes, and when composed with good taste, gives additional spirit and relish to even that "essence of savouriness," turtle soup. It is also sent up in patties, and for stuffing of veal, game, poultry, etc. The ingredients should be so proportioned that no one flavour predominates, and instead of giving the same stuffing for veal, for hare, etc
Original recipe: Elixatos sfondilos conteres et neruos eorum eximes, deinde cum eis alicam elixatam, oua conteres, pipere. In omento assabis, oenogaro profundes et pro isiciis inferes.
Translation: Lightly cook scallops or the firm part of oysters. Remove the hard and objectionable parts, mince the meat very fine, mix this with cooked spelt and eggs, season with pepper, shape into croquettes and wrap in caul, fry, underlay a rich fish sauce and serve as a delicious entrée.
Ingredients
¼ lb. minced shellfish meats
Ground pepper
1 t. celery seed (or lovage)
Grated almonds or pine nuts
1 raw egg
Bread crumbs
casings
Olive oil
Wine sauce
Preparation
To make this dish, peel turnips, and cook until soft. Mash them, and spread the paste on a serving platter.
Remove the bones from the fish (fillet them) and poach them lightly in stock and a little olive oil.
Place the cooked fillets on top of the mashed turnips, season with the saffron sauce below, and serve with a sprinkling of pepper.
Making the sauce
For the sauce, grind together cumin and laurel berries or pepper. Combine with white wine, honey, stock, and olive oil or butter.
Bring to a boil, simmer for 25 minutes, and thicken with flour.
Add saffron for colour.
Pour the sauce over the cooked fillets and serve with a sprinkling of vinegar.