Recipe for
Mixtura cum Caseo
(Soft Cheese with Herb Purée)
by Columella De Re Rustica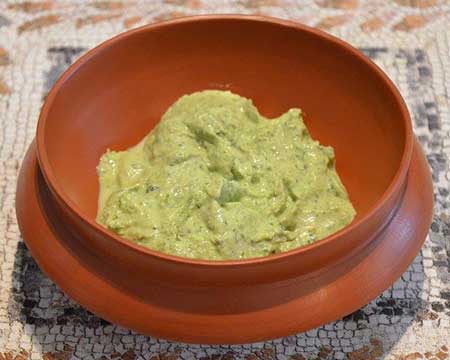 about text
Original recipe:
Translation:Put savory in the mortar with mint, rue, coriander, parsley, sliced leek, or, if it is not available, onion, lettuce and rocket leaves, green thyme, or catmint. Also pennyroyal and salted fresh cheese. This is all crushed together. Stir in a little peppered vinegar. Put this mixture on a plate and pour oil over it.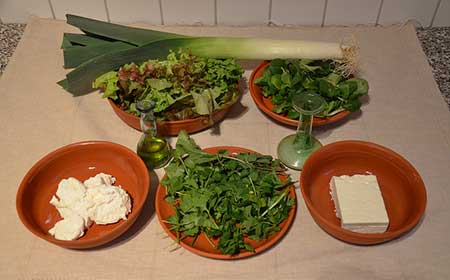 Ingredients
1 leek
100 g/3 oz feta cheese
100g/3oz cheddar cheese
2 or 3 mint leaves
1 small lettuce
A handful of rocket leaves
A handful of fresh coriander leaves
A handful of fresh parsley
A sprig each of rue, thyme and pennyroyal
½ tsp ground black pepper
2 tbsp white wine vinegar
2 tbsp olive oil
Preparation
Finely slice the leek and steam until tender
Once they are cooked, place in a food-processor.
Clean the lettuce and add to the leek, along with the herbs, cheese, pepper and vinegar.
Process in the processor until all this becomes a fine, uniform paste.
Taste and add salt and more vinegar if desired
Place the purée in a bowl and garnish with a swirl of extra virgin olive oil.
Serve with warm bread.