Recipe for
Pullum elixum cum cucurbitis elixis
(Aniseed Chicken)
By Apicius VI, X, 243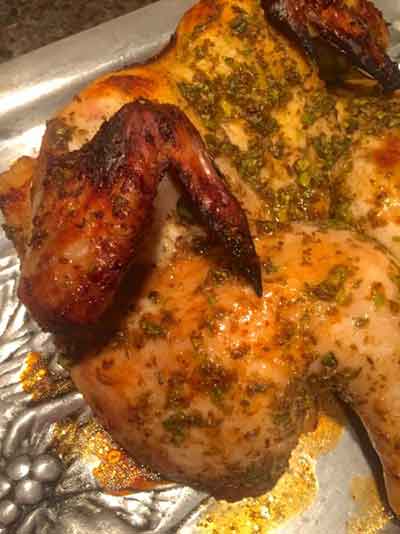 A main meal, bound to impress
Original recipe: Aliter: piper, careum, anethum, petroselinum, mentam siccam, silfi, folium, malabathrum, spicam Indicam, costum modicum, mel, acetum, liquamen. Pullum elixum cum cucurbitis elixis: teres piper, cuminum, thymi modicum, feniculi semen, mentam, rutam, laseris radicem, suffundis acetum, adicies caryotam et teres. mel, aceto, liquamine et oleo temperabis. pullum refrigeratum et siccatum mittis, quem perfusum inferes. iure supra scripto, addito sinape, perfundis et inferes.
Translation: Another way: pepper, caraway, anise, parsley, dry mint, the leaves of silphium, malobathrum, Indian spikenard, a little costmary, honey, vinegar and broth. Crush pepper, cumin, a little thyme, fennel seed, mint, rue, laser root, moistened with vinegar, add figs (dates also work well) and make it savoury with honey, vinegar, broth and oil to taste: the boiled chicken properly cleaned and dried add mustard, pour over and serve.
Ingredients
1 whole chicken
1 tsp aniseed
2 sprigs mint, chopped
2 cm piece of ginger, grated
¼ tsp spikenard
½ tsp fennel seed
1 tsp rue
small drop of asafoetida
60ml white wine vinegar
3 finely-chopped dates
chicken stock
1 tbsp mustard seeds
30ml olive oil
50ml defritum
5 tbsp honey
½ tsp cornflour
salt and ground pepper to taste
Preparation
Braise the whole chicken by immersing in boiling water for 20 minutes.
Drain and wipe the chicken dry, reserving the stock.
Mix the aniseed, ginger, mint, dates, white wine vinegar, mustard, olive oil defritum, honey and the remaining herbs together.
Add 500ml of the chicken stock, bring to the boil and simmer gently for 20 minutes.
Meanwhile score the skin of the chicken and place the bird in a roasting tin.
Pour the hot aniseed sauce over the bird, place the top on the roasting tin and place in an oven pre-heated to 180°C and roast for two hours, basting frequently with the liquid from the roasting pan. When the chicken is done set aside in a warm place to rest and pour the remaining stock through a sieve and into a saucepan.
Add the cornflour to thicken and boil until it forms a thick sauce. Slice the chicken and serve with the sauce.