Patina zomoteganon
(Fish Stew with Leeks
and Coriander)
By Apicius, IV, II, 27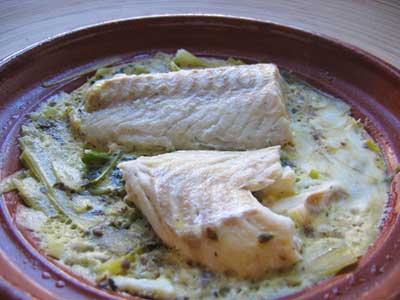 Yeah, go ahead and click here to buy this book!
The Roman Cookery of Apicius
AFAIK, this recipe comes from Edwards and was inserted by original site author (I will say again to PLEASE buy these author's books! By doing so, you will help support them — even for books that are older and might not sell as well anymore... These authors do not do this for money, they do it for love. Please support them!
---
T

his is actually a great starter recipe if you want to dabble a little in Roman cooking: it's really easy, it doesn't need too make esoteric ingredients, and the flavors are mild. The directions above translate roughly to: "Put raw fish in a pan. Add oil, liquamen, wine, cooking liquid, a bundle of leeks, coriander. While it is cooking, chop pepper, ligusticum, oregano, leeks, mash the things together, suffuse them with their juice, scramble raw eggs, mix them in proportion. Pour them into the pan and cook until they bind. When it holds together, sprinkle with pepper and serve."

Original recipe: Patina zomoteganon: a crudo quoslibet pisces lavas, in patina compones. adicies oleum, liquamen, vinum, cocturam, fasciculum porri, coriandri. dum coquitur, teres piper, ligusticum, origanum <et coctum> fasciculum, de suo sibi fricabis, suffundes ius de suo sibi, ova cruda dissolves, temperas. exinanies in Patina, facies ut obligetur. cum tenuerit, piper asparges et inferes.

Translation: Arrange any chosen fish, uncooked in a pan. Add oil, fish sauce, wine, a bouquet of leek and coriander. While it cooks crush pepper, rub in a bouquet of lovage and oregano, add the juice from the cooked fish, beat in raw eggs, blend. Empty into the pan, allow to bind. When set, season with pepper and serve.
Ingredients
2lbs. raw fish fillets or steaks
1 c. Fish stock
1 c. Boiled white wine
1 T. Olive oil
1 c. sliced leeks
1 t. Coriander
½ t. Ground pepper
½ t. celery seed (or lovage)
½ t. Oregano
2 raw egg yolks
Preparation
Take fish fillets, chop them into pieces and put into a pot.
Add stock, boiled wine, olive oil and leeks.
Bring to a boil, then simmer over low heat.
Meanwhile grind together coriander, pepper, celery seed (or lovage), and oregano.
Add these seasonings to the stew.
Thicken the liquid by adding well beaten yolks little by little.
Simmer for 10 minutes.
Serve with a sprinkling of pepper.