Recipe for
Krea Tareikhera
(Ham in a Red Wine Sauce)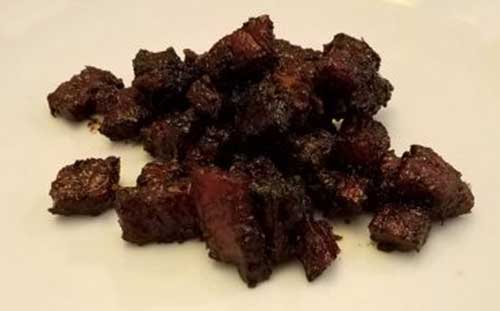 from the Heidelberg Papyrus
Yeah, go ahead and click
here
to buy this book!
Roman Cookery
: Ancient Recipes for Modern Kitchens.
Yes, this book has a new cover, but I like this one better. Blah, I am so horrible.
AFAIK, this recipe comes from Grant and was inserted by original site author (I will say again to PLEASE buy these author's books! By doing so, you will help support them — even for books that are older and might not sell as well anymore... These authors do not do this for money, they do it for love. Please support them!
A criticism sometimes levelled at Roman cooking is that browns and greens predominate, the reds and yellows of modern cooking being absent without tomatoes and peppers. This sauce therefore provides a welcome shade of plum to the main course and serves as an excellent accompaniment to thin courses of ham. I use dried herbs for their convenience and concentrated flavour, and fennel bulb because in this recipe I think its flavour works better than that of the seeds. You could, however, substitute a teaspoon of ground fennel seeds for the bulb.
Original recipe:
Translation: 'Cured meat or slice sof ham, similarly raw meat: first the cured meat is boiled a little just to take away its saltiness. Then put all these ingrediants into a pan: four parts of wine, tow parts of grape syrup, one part of wine vinegar, dry coriander, thyme, dill, fennel. Fry, after putting everything in together at the start, then boil. Half-way through the cooking some people add honey and ground cumin, others pepper, and after putting the sauce into a warmed pot they add little pieces of hot loin and bread.'
Ingredients
Sliced ham
¼ litre/½ pint red wine
60 ml/2floz red wine vinegar
1 tsp dried dill tops
1 tsp dried thyme
2 tsp ground coriander
1 tbsp honey
Half a head of fennel (about 175 g/6 oz)
1 tsp ground pepper
1 large slice wholemeal bread
Sea salt
Preparation
Finely chop the fennel.
Mix all the ingredients except the bread in a pan and braise the chopped fennel in the sauce until tender.
Meanwhile cut the crust off the bread.
Pour the fennel and wine sauce into a blender and liquidise together with the bread until smooth.
Return the sauce to the pan and heat gently before serving, stirring occasionally to prevent sticking.
Serve with slices of ham.