Recipe for Isicia
(Prawn Rissoles)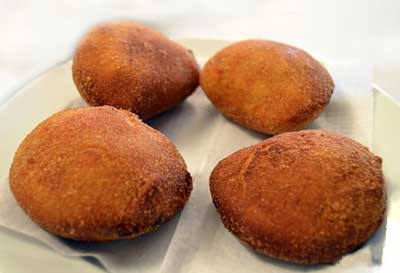 by Apicius, II, 1
Apicius' seafood recipes consist mainly of seafood minces combined with garum and black pepper and some savoury herbs. These are then shaped into patties or croquettes and fried in pork fat. It is likely that Apicius' shrimp patty, served perhaps with rice and a sweet-and-sour dipping sauce, would not seem at all unusual today.
Original recipe: Isicia fiunt marina de cammaris et astacis de lolligine, de sepia, de locusta. Isicium condies pipere, ligustico, cumino, laseris radice.
Translation: The shelfish are taken out of their shell and pounded in a mortar with pepper and best quality garum. Rissoles are formed from the minced meat.
Ingredients
24 cooked shelled prawns (or any seafood, such as prawns, crab, oysters, lobster, cuttlefish, etc.)
a pinch of pepper
1 tsp (5ml) garum
1 egg, beaten
flour
Preparation
Peel and mash the prawns in a bowl.
Add the pepper and garum.
Mix in the beaten egg to bind and shape the mixture into

rissoles

Rissoles are a compressed mixture of meat and spices, coated in breadcrumbs and fried.

.
Roll in flour and fry gently in oil until lightly browned on both sides.