Recipe for
In grue, in anate vel in pullo
(Roast Duck (or Crane) with Damson Sauce)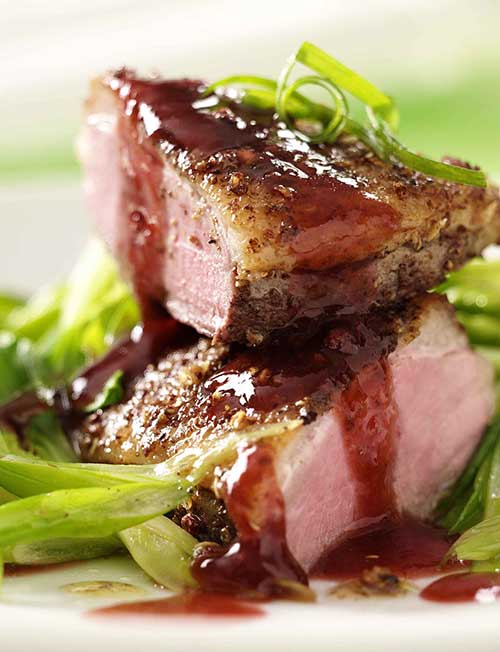 by Apicius, VI, II, 2
A smooth main meal, this roast duck and Damson plum sauce is bound to impress. The sauce also works well with roasted vegetables. This lightly spiced duck recipe is perfect for the cooler winter months, this dish will warm your soul and keep you coming back for more. The plums and red wine add body, sweetness and a touch of acidity to the rich sauce.
Original recipe: In grue, in anate vel in pullo: piper, cepam siccam, ligusticum, cuminum, apii semen, pruna [vel] damascena enucleata, mulsum, acetum, liquamen, defritum, oleum et coques. gruem cum coquis, caput eius aqua quam non contingat, sed sit foris ab aqua. cum cocta fuerit, de sabano calido involves gruem et caput eius trahe. cum nervis sequetur, ut pulpae vel ossa remaneant, cum nervis enim manducare non potest.
Translation: [For the sauce, blend] Pepper, dried onion, lovage, cumin, celery seed, prunes or Damascus plums [damsons] stones removed, fresh must, vinegar, liquamen, reduced must and oil. Boil the crane; while cooking it take care that its head is not touched by the water but that it remains without. When the crane is done, wrap it in a hot towel, and pull the head off so that the sinews follow in a manner that the meat and the bones remain; for one cannot enjoy the hard sinews.
Ingredients
1 large duck
flour
olive oil
½ t. Pepper
2 t. chopped onion
1 T. lovage (or celery seed)
1 t. Cumin
½ t. Celery seed
½ c. stoned damson plums
¼ c. Mulsum (or mead or 1 T. honey)
2 c. chicken stock
dash of wine vinegar
½ c. defruitum (or boiled wine)
1 T. Oil (or butter)
Preparation
To give the bird a greater flavour and make it more nourishing and keep all the fat in, wrap it in pastry made of oil and flour and cook it in the oven. To do so:
Make a batter from the flour and enough olive oil to bind the flour together. Season this with salt and pepper and use to entirely cover the duck in a layer of pastry. Place in a roasting tin and roast for 2 hours at 170°C.
In a mortar, grind pepper, dried onion, lovage, cumin, celery seed, stoned damsons, mulsum, vinegar, liquamen, defrutum and oil.
Add chopped damsons.
Blend with mead or honey, stock, vinegar, boiled wine and olive oil (or butter).
Bring to a boil and simmer for 30 minutes over very low heat.
Strain the sauce and pour over slices of the roasted duck or chicken.