Recipe for
Recipe for Gruem vel Anatem
(Roast Duck (or crane) in Spiced Gravy)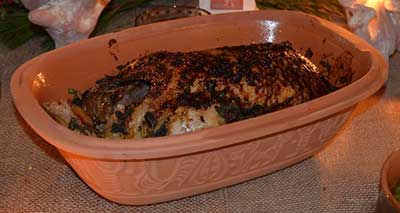 by Apicius, VI, II, 1
Yeah, go ahead and click here to buy this book!
The Roman Cookery of Apicius
AFAIK, this recipe comes from Edwards and was inserted by original site author (I will say again to PLEASE buy these author's books! By doing so, you will help support them — even for books that are older and might not sell as well anymore... These authors do not do this for money, they do it for love. Please support them!
A main meal, bound to impress. The flavours here are truly delicious and what makes it so, is the collection of spices in the sauce. The Romans also used this with crane, so you might substitute another bird.
Original recipe: Gruem uel anatem lauas et ornas et includis in olla. Adicies aquam, salem, anethum, dimidia coctura decoques, dum obduretur, leuas et iterum in caccabum mittis cum oleo et liquamine, cum fasciculo origani et coriandri. Prope cocturam defritum modice mittis, ut coloret. Teres piper, ligusticum, cuminum, coriandrum, laseris radicem, rutam, caroenum, mel, suffundis ius de suo sibi, aceto temperas, in caccabo reexinanies ut calefiat, amulo obligabis. Imponis in lance et ius perfundis.
Translation: Wash the crane or duck, tie it up and put it in a pot. Add water, salt, dill, and cook until it is half cooked. When it becomes stiff, take it out and put it in a pan with oil and garum, with a bundle of oregano and coriander. Towards the end of the cooking time add some defritum, to color it. Grind pepper, lovage seeds, cumin, coriander, devil's drag, rue, carunum, honey; pour some of the cooking salt, ling with vinegar. Put it back in the pan to get hot, tie it with starch. Place the bird on a dish and pour the sauce over it.
Ingredients
1 large duck
3 c. Water
1 t. salt
¼ t. aniseed
2 T. butter or olive oil
1 c. Duck stock
1 t. Oregano
1 T. Coriander
½ c. Boiled wine
½ t. ground pepper
1 t. celery seed (or lovage)
½ t. cumin
¼ t. coriander
pinch of fennel
½ t. rosemary (or pinch of rue)
½c. boiled wine
dash of wine vinegar
1 c. gravy from the roasting pan
flour
Preparation
Simmer the duck for 30 minutes in water seasoned with aniseed.
Remove the bird from the pot, reserving the stock.
Put the duck in a roasting pan, and season with a mixture of butter or olive oil, stock, oregano, and coriander.
(At this point, an 'Apician'stuffing may be added, made of sausage, damsons or dates, almonds and spices.)
Roast In a high heat for 1½ hours basting from time to time.
For the last 30 minutes add the boiled red wine to the pan.
Grind pepper, celery seed (or lovage), cumin, coriander, fennel, and rosemary (or rue) in a mortar.
Add to boiled wine, vinegar, and gravy from the roasting pan.
Bring to a boil, simmer to blend flavors, and thicken with flour.
Serve the duck on a platter with the sauce.