Celtic women had fierce pride and they enjoyed a freedom and power that women in ancient Rome did not have. I think what I like about the Celts is they had a more balanced society. Though they were a warrior society, their gods and goddesses were equal and that was not the case in other religions. There is not a lot of evidence pointing to women warriors among the Celts, but Queen Boudica led an army against the Romans around AD60. Celtic women were not to be messed with.
Though public life among the Iron Age Celts was largely the domain of men, women managed to play a prominent role as well. They seem not to have been systematically excluded from any occupation. Women could become druids, including priestesses, poets, and healers. They could conduct business without the consent or involvement of their husbands.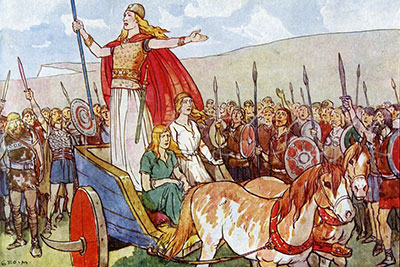 The Romans did not take female rulers seriously and sought to take advantage of what they considered to be the weakness of the Iceni at this time. Catus Decianus, the Roman in charge of collecting Rome's share of the inheritance, insulted the Iceni through a series of horrific acts. He ordered his troops to loot their property, flog Boudicca in public, and rape her daughters repeatedly. Boudicca responded by leading a revolt of her people's forces and those of several other tribes that had grown resentful of the invading Romans. The rebels leveled the Roman administrative center of Londinium (modern-day London) and sacked two other Roman towns before being defeated. Boudicca's ability to unite her people in revolt was remarkable considering the destabilizing Celtic penchant for individual glory, a consistent precipitating factor in the fall of Celtic Europe to Roman expansion.