The Demetae Tribe
Background to the Demetae
Location of the tribe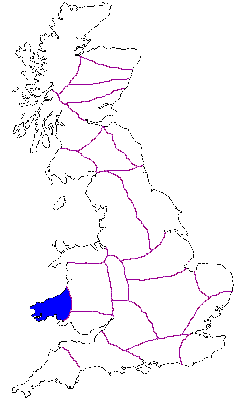 The south eaat coast of Wales: Carmarthen, Dyfed.
Capital: MORIDVNVM
During the Late Pre-Roman Iron-Age the Demetae tribe inhabited a territory roughly equatable with the modern county of Dyfed in south-west Wales. There are only two places of note in the Roman administrative district, both of which are attributed to the tribe by Ptolemy (vide supra). Their hillforts appear to share attributes with those found in the south-western peninsula of England.
Principal towns and settlements in Demetae territory
Moridunum - (Carmarthen, Dyfed) - Possibly the site of a Flavian fort. The only polis attributed to the tribe by Ptolemy, the location of this settlement was also known as Muridunum. The civitas capital may have been only a vicus attached to the fort.
Other known Romano-British settlements
Aber-Cyfor - Name uncertain - Romano-British buildings included a tessalated pavement.
Cwm Brwyno - (Dyfed) - Native settlement in a loop of the Afon Rheidol
Ford - (Dyfed) - Settlement on the Afon Cleddau. There are several native hillforts in the neighbourhood of the crossing over the Afon Cleddau.
Parc-yr-Eglwys - (Eglwys Cymmyn, Dyfed) - Roman buildings near Iron Age earthworks overlooking Carmarthen Bay
Trelissey - Name uncertain - (St. David's, Dyfed) - Roman building within an Iron Age site.