The Parisi Tribe
Background to the Parisi
Location of the tribe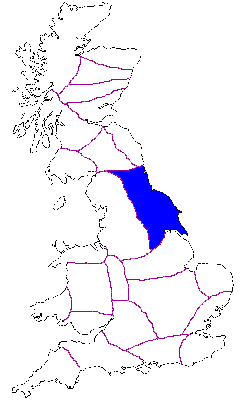 North and East Yorkshire
Background information
The Parisi were originally immigrants from Gaul, which is why their share their name with the tribe that occupied modern day France. As can be gathered from their name, they gave the French capital it's name.
Principal towns and settlements in Parisi territory
Petvaria - (Brough on Humber, Humberside) - The suspected Civitas capital , and the only polis ascribed to the tribe by Ptolemy, its official status was only that of a vicus.
Other Settlements
Delgovicia? - (Millington, Humberside) - Minor settlement included a temple.
Derventio - (Malton, North Yorkshire) - Roman fort with attached minor settlement or vicus.
North Ferriby - nearby Brough, was the site of an old Celtic settlement, and the northern terminus of a ferry over the Humber estuary to South Ferriby, in the territories of the Coritani.
Rudston - (Humberside) - Villa with crude but effective mozaics, on the road to the east coast near Bridlington.