Ingredients in Roman Recipes
Something to remember: The Romans did not always use the same names or varieties of things as we do... To them, "corn" was wheat, not the maize we refer to today. Another example would be cucumbers — not the green vegetable we think of today, but instead the Cucumis Melo, of the Cucurbitaceae family popularly known as the "Santa Claus", "Christmas", or "Toadskin" melon. I know this page is kind of long and a hodgepodge, but we will get it more streamlined. Just updating it and getting it started to be more useful.
As ALWAYS, your input is welcome. ~DMV
Common Spices and Ingredients
Here, above are some common spices and ingredients. Below that, there is a very detailed article by Correus, along with photos and more details on some of these ingredients. More photos will be added as time goes by.
Common Ancient Roman Ingredients
Submitted by Correus — art added by DMV
Bread:
Bread was perhaps THE staple that would be found on every table, in every home — regardless of social status. Flour used in making bread varied, anywhere between coarse wholemeal to fine white. Originally fine white bread was only eaten by the rich, yet by the Empire it was common for all. Just as now, coarse wholemeal was thought to be heartier and healthier — Augustus was a proponent. Bread could be unleavened, leavened, and sourdough. It could be plain or flavored. There was popular bread imported from Alexandria — Panis Alexandrinus — that was flavored with cumin and honey.
Grains:
Grains were a mainstay of the lower classes but Ancient Romans as a whole ate wheat, alica, emmer, spelt, and barley, millet, farro, rye, oats, and panic. Millet and panic were the primary grains used for porridges.
Most common flours were made with spelt, wheat (triticum), rye and millet (mainly southern Italy). Barley and oats were more common as wholemeal flours. Basically ANY bread can be used. Traditional, Old World artisanal breads from places such as WalMart are good and easy to get.
Fruits:
Even though fruit was often used as an ingredient in cooking, most fruit was eaten fresh and, of course, in season!! The Romans did, however, dry some fruits for use in cooking and to be eaten in the off season.
Most common fruits eaten by the Romans: apples (3 cultivars), pears (35 cultivars), figs, grapes, quinces, citron, strawberries, blackberries, elderberries, currants, plums, damsons, dates, melons, rose hips and pomegranates.
Less common but very popular, and expensive, were cherries and apricots (1st century BC) and peaches (1st century AD).
Nuts:
Pistachio, Walnut, Almond, Hazlenut, Pine Nut, Chestnut and Sesame seeds
Vegetables:
The Ancient Romans were very, very fond of their veggies. Patrick Faas describes it best in his book "Around the Roman Table".
"A Roman patrician's pride and joy were his vegetables. Earning money from trade was considered vulgar, fishing was for decadent Greeks, and the herding of cattle was left to barbarians. Vegetable-growing, though, was perfectly acceptable."
Following are the veggies known to the Romans and easy to find nowadays.
Celery, Garlic, Yellow Squash (not 100% sure it's the same as ours — edible gourds would be better), Lettuce, Endive, Shallots, Onion, Leeks, Fennel, Asparagus, Radishes, Turnips, Parsnips, Carrots (in Roman times they WERE NOT orange), Beets, Green Peas, Chard, Chicory, Green Beans, Cardoons (Artichoke Thistle), Olives, and "Cucumber." [Yes, I'm sure we'll get photos of other ancient varieties of veggies here soon. Not today though — my head hurts]
Brussels sprouts, artichokes, sweet peas, rutabaga and cauliflower were eaten by the Ancient Romans — however, the modern cultivated forms we know and eat today were not developed until the late Middle Ages and early Renaissance times.
Brassicas
Brassica is a genus of plants in the mustard family (Brassicaceae). The members of the genus are informally known as cruciferous vegetables, cabbages, or mustard plants. Crops from this genus are sometimes called cole crops—derived from the Latin caulis, denoting the stem or stalk of a plant.
The genus Brassica is known for its important agricultural and horticultural crops and includes a number of weeds, both of wild taxa and escapees from cultivation. Brassica species and varieties commonly used for food include broccoli, cauliflower, cabbage, choy sum, rutabaga, turnip and some seeds used in the production of canola oil and the condiment mustard. Most are seasonal plants (annuals or biennials), but some are small shrubs.
The genus is native to Western Europe, the Mediterranean and temperate regions of Asia. Many wild species grow as weeds, especially in North America, South America, and Australia.
were an all-time favorite of the Ancient Romans, with the humble cabbage being the most loved. Other brassicas eaten by the Romans were kale and broccoli
Mushrooms
The Ancient Romans LOVED mushrooms and the most common and popular was the Amanita mushrooms, Boletus mushrooms, truffles, and various wild Agaricus mushrooms. Since mushrooms were not cultivated but gathered, stick with those that at least "look" wild if they are part of a display. For cooking I would still stick with those — just stay away from Asian and canned.
Legumes
The Ancient Romans ate tons of legumes — and they were a staple of the poor. The legumes eaten by the Ancient Romans included dried peas, sweet peas, lupins, lentils and fava beans. Of all of these, the most popular of the legumes was the chickpea and they had several varieties of these! *A Note: Some of the most common legumes eaten here in the US — black beans, blacked eyed peas, navy, kidney and so on — were not known to the Ancient Romans.
---
Meat:
Following are the various "meats" eaten by the Ancient Romans. Keep in mind though that the Ancient Romans did not eat meat like we do today — it was too expensive. Meat consumption as seen via Asia and the Mediterranean follows Roman meat eating closer than the typical diet in the US.
Beef was eaten by the Ancient Romans but it was rare and very expensive. When it was eaten it was typically during a religious event. Veal was a favorite.
Sheep and Goat were eaten but it was just slightly eaten more than beef for the same reasons.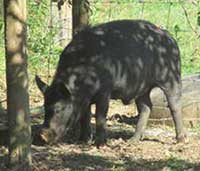 Pork was the most favorite meat eaten by the Ancient Romans with ham, bacon and chops being the most favorite parts. Aside of eating these parts as standalone cuts the Ancient Romans loved pork in the form of sausages.
If you are going to cook meat, especially at a reenactment event, ham and bacon (not sliced, grocery store bacon) is your best bet.
Poultry: