Recipe for Dodra
(Nine Times Sauce)
By Ausonius, Poems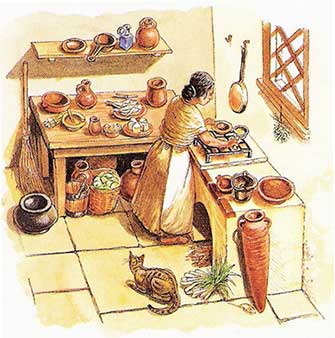 Yeah, go ahead and click
here
to buy this book!
Roman Cookery
: Ancient Recipes for Modern Kitchens.
Yes, this book has a new cover, but I like this one better. Blah, I am so horrible.
AFAIK, this recipe comes from Grant and was inserted by original site author (I will say again to PLEASE buy these author's books! By doing so, you will help support them — even for books that are older and might not sell as well anymore...
' "I am called Nine Times Sauce" Why is that?" "I have nine ingredients." "What are they?" "Stock, water, honey, wine, bread, pepper, herbs, olive oil, salt." '
Although this sauce is used as part of a soufflé, it could also be served with vegetables. Roman cooking is often "mix and match" and trying new things together.
Ingredients
Half a vegetable stock cube
1 tbsp white wine
1 tbsp olive oil
1 tbsp clear honey
A handful each of fresh parsley, thyme and oregano
75g/2½ oz white bread
A pinch of salt
Preparation
Dissolve the stock cube in 150 ml/5 fl oz of boiling water.
Finely chop the fresh herbs.
Cut the crust off the bread.
Put all the ingredients in a food processor and blend until smooth.
Serve.