Patina de piris
(Pears with Cinnamon and Wine)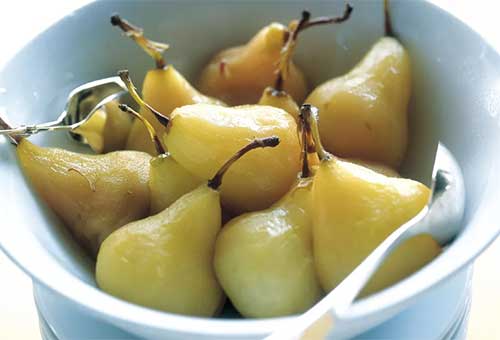 by Apicius, IV, 11-35
This recipe can be used as a dessert at mealtimes. This recipe is still seen today as "Poached pears in white wine sauce" and is a special dessert that's a mainstay on nearly every French restaurant menu. It's healthy, low fat, and easy to make at home so that everyone can enjoy it. Plus, it's absolutely delicious to eat.
Pears are one of the best fruits to poach as the flesh stays firm, so the pear keeps its shape. With so many pear varieties available, you can change it up for different flavors, textures, and sweetness every time you make it. There are endless ways to serve poached pears — Give it a go.
Original recipe: Pira elixa et purgata e medio teres cum pipere, cumino, melle, passo, liquamine, oleo modico. Ouis missis patinam facies, piper super aspargis et inferes.
Translation: A dish of pears is made this way:2 stew the pears, clean out the center remove core and seeds crush them with pepper, cumin, honey, raisin wine, broth and a little oil; mix with eggs, make a pie (custard) of this, sprinkle with pepper and serve.
Ingredients
1 lb. Pears
>Water
1 t. Cinnamon
Pinch of cumin
2 T.Honey
½ c. Sweet white wine
1 T. Olive oil or butter
1 c. Pear liquid
2 Egg yolks
Nutmeg
Preparation
Wash pears, peel and steam in water till soft.
Drain and reserve liquid. Remove the pear cores, and quarter them.
Put the pieces into a pot, and season with cinnamon, cumin, honey, sweet white wine, olive oil or butter and the pear liquid from the steaming pan.
Simmer gently for a few minutes.
Thicken liquid with well beaten yolks.
Serve hot with a sprinkling of nutmeg.