Recipe for Tubera
(Truffles)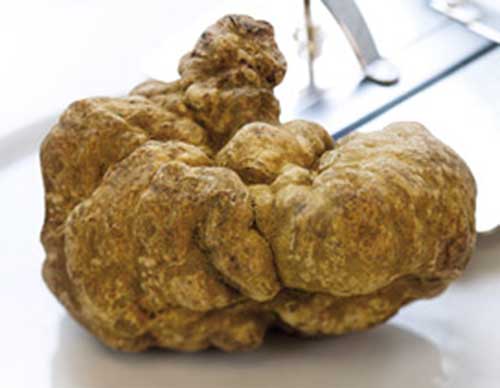 by Apicius VII, XIV, 1
Yeah, go ahead and click here to buy this book!
The Roman Cookery of Apicius
AFAIK, this recipe comes from Edwards and was inserted by original site author (I will say again to PLEASE buy these author's books! By doing so, you will help support them — even for books that are older and might not sell as well anymore... These authors do not do this for money, they do it for love. Please support them!
The truffle is a fruit of the earth which has been known since ancient times. The truffles which delighted the palates of the patrician Romans were deficient only in their quality, because their price was very high, so much so that Apicius included six truffle recipes in his "De Re Coquinaria" Book VII, citing the most expensive dishes.
Meanwhile, studies on the truffle proliferated. Pliny the Elder called it "callus of the earth" while Juvenal was so infatuated that he said "I would rather the corn failed than the truffle." The first testimonies come from the diet of the Sumerian people and from the time of Jacob the Patriarch, around 1600 – 1700 B.C.
The ancient Greeks called it Hydnon (from which "hydnology" is derived, that is the science of the truffle) or Idra, the Latin people called it "Tuber," from the verb "tumere" (= to swell).
Original recipe: Tubera radis, elixas, sale aspergis, et surculo infiges. Subassas, et mittes in caccabum oleum, liquamen, caroenum, uinum, piper et mel. Cum ferbuerit, amulo obligas. Tubera exornas et inferes.
Translation: Scrape [brush] the truffles, parboil, sprinkle with salt, put several of them on a skewer, half fry them; then place them in a sauce pan with oil, broth, reduced wine, wine, pepper, and honey. When done retire the truffles bind the liquor with roux, decorate the truffles nicely and serve
Ingredients
12 large truffles
Salt
1 c. veal stock
2 t. olive oil
1 t. garum
½ c. white wine
1 t. caroenum
1 t. honey and ¼ t. ground pepper
2 t. cornflour
Preparation
Scrape the truffles and put in a saucepan with some water.
Boil until just tender, sprinkle with salt and thread on to skewers (transfix with twigs). Grill lightly.
Put the oil, garum, wine, caroenum, honey and pepper in a saucepan and bring to the boil.
Add the cornflour mixed with a little water and stir until thickened.
Remove truffles from skewers and serve with the sauce.