Roman Historical Attractions Main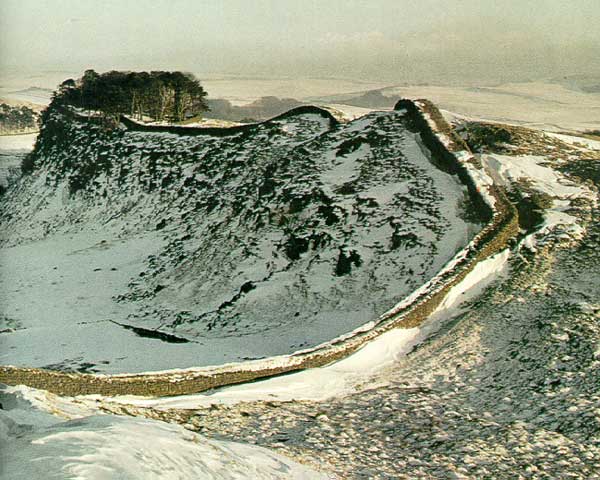 T
he landscape and culture of Iron Age Britain changed dramatically when the Romans arrived in AD43. Considered to be a peripheral colony of the great Roman Empire, the invaders soon put their unmistakable stamp on the sprawling chaos of iron-age settlements. 25 planned towns were created, legionary fortresses were strategically placed around the country, and long straight roads were laid down to provide ease of communication between the military outposts. Later, in the north, the massive Hadrian's Wall was constructed to define the limit of Roman rule, and in the southern part of the country, hundreds of villas were constructed during the 360 years of Roman occupation.
There are many Roman sites in the United Kingdom that are open to the public. Many of these sites that do not require special access, including Roman roads, and sites that have not been uncovered. Others though, do cost some money and often you get what you pay for.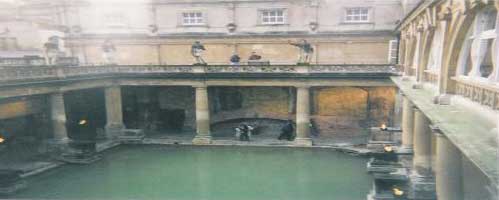 Attractions around Britain
Britain Roman sites constitute an integral part of the major tourist attractions of the country. While most Roman ruins of Britain are supervised by English Heritage, some of the sites are administered by National Trust. The Roman sites of Britain are scattered all over the country. The Britain Roman sites are found in places like Avon, Glasgow, Scotland, Wiltshire, West Midlands, Somerset, London, Kent, Hertfordshire, Gloucestershire, Cumbria, Cambridgeshire, Yorkshire, Wales, West Sussex, Tyne and Wear, North Yorkshire, Lancashire, Isle of Wright, Gwynedd, Dorset, and Cheshire.
The list below are some of the places where a Roman museum or site can be found. If a link is present for any site, there is a page that gives more information about the site.

And, of course, we have pages for these sites located in the menu to the left. Some are in a state of needing update. Something to work for. IF, you come across any of the little booklets these sites sell on their site, we'd sure like a copy of them--helps us to fill out our pages on them.

Avon

Bath
Roman Baths and Pump Room
Abbey Church Yard
Bath
BA1 1LZ

Website : www.romanbaths.co.uk
Email : romanbaths_enquiries@bathnes.co.uk


Tel : 01225 477785

Fax : 01225 477743

Cambridgeshire

Huntingdon
The Norris Museum
The Broadway
St. Ives
PE27 5BX
Bob Burn-Murdoch

Tel : 01480 497314

Cheshire

Chester
Dewa Roman Experience
Pierpoint Lane
Off Bridge Street
Chester
CH1 1NL


Tel : 01244 343407

Fax : 01244 343407

Cumbria

Carlisle
Tullie House Museum
Castle Street
Carlisle
CA3 8TP


Tel : 01228 534781

Fax : 01228 810249

Dorset

Poole
Waterfront Museum
4 High Street
Poole
BH15 1BE

Website : www.poole.gov.uk
Email : museums@poole,gov.uk


Tel : 01202 262600

Fax : 01202 262622

Sherborne
Sherborne Museum
Abbey Gate House
Sherborne
DT9 3BP


Tel : 01935 812252

Gloucestershire

Cirencester
Corinium Museum
Park Street
Cirencester
GL7 2BX

Website : www.cotswold.gov.uk
Email : judy.mills@cotswold.gov.uk


Tel : 01285 655611

Fax : 01285 643286

Gwynedd

Caernarfon
Segontium Roman fort and museum
Beddgelert Road
Caernarfon
LL55 2LN

Website : www.nmgw.ac.uk


Tel : 01286 675625

Fax : 01286 678416

Hertfordshire

Letchworth
Letchworth Museum
Broadway
Letchworth
SG6 3PF

Website :www.nhdc.gov.uk
Email:letchworth.museum@nhdc.gov.uk

Tel :01462 685647

Fax:01462 481879




St. Albans
Verulamium Museum
St. Michaels Street
St. Albans
Herts.
AL3 4SW

Website : www.stalbansmuseums.co.uk
(after September 2000)
Email : a.coles@stalbans.gov.uk


Tel : 01727 751810

Fax : 01727 859919

 

Welwyn
Site address :
Welwyn Roman Baths
Welwyn By-Pass
Welwyn
Hertfordshire

Contact address
Welwyn Hatfield Museum Service
Mill Green Museum and Mill
Mill Green
Hatfield
AL9 5PD

Website : www.hertsmuseums.org.uk


Tel : 01707 271362

Fax : 01707 272511

Isle of Wight

Newport
Newport Roman Villa
Cypress Road
Newport
Isle of Wight
PO30 1EX


Tel : 01983 529720

Fax : 01983 823841

Kent

Canterbury
Roman Museum
Site address
Canterbury Roman Museum
Butchery Lane
Longmarket
Canterbury

Contact address
Canterbury Museum Office
High Street
Canterbury
CT1 2RA

Website : www.canterbury-museums.co.uk




Tel : 01227 785575

Fax : 01227 455047



Tel : 01227 452747

Fax : 01227 455047


Dartford
Lullingstone Roman Villa
Lullingstone Lane
Eynsford
Dartford
DA4 0JA


Tel : 01322 863467

Fax : 01322 863467




Dover
Roman Painted House
New Street
Dover
CT17 9AJ


Tel : 01304 203279

Folkestone
Folkestone Museum
Folkestone Library
2 Grace Hill
Folkestone
CT20 1HD

Website : www.kent-museums.org.uk
Email : janet.adamson@kent.org.uk

Tel : 01303 256710

Fax : 01303 256710




Orpington
Crofton Roman villa
Contact address
Kent Archaeological Rescue Unit
5 Harvest Bank Road
West Wickham
BR4 9DL

Site address
Crofton Roman villa
Crofton Road
Orpington


Tel : 020 8462 4737
or Bromley Museum
01869 873826

Fax : 020 8462 4737

 

Lancashire

Ribchester, Preston
Ribchester Roman Museum
Riverside
Ribchester
Preston
PR3 3XS

 

Tel :01254 878261

London

The Museum of London
London Wall
London
EC2Y 5HN

Website :www.museumoflondon.org.uk
Email :info@museumoflondon.org.uk

Tel : 020 7600 3699

Fax : 020 7600 1058

North Yorkshire

Huddersfield
Tolson Memorial Museum
Ravensknowle Park
Wakefield Road
Huddersfield
HD5 8DJ



Tel :01484 223830

Fax:01484 223843

Malton
Malton Museum
Old Town Hall
Market Place
Malton
YO17 0LT


Tel : 01653 695136

Somerset

Yeovil
Museum of South Somerset
Hendford
Yeovil
BA20 1UN


Tel : 01935 424774

Fax : 01935 424774


Website :www.southsomerset.gov.uk/tourism/ssmuseums
Email : marion.barnes@southsomerset.gov.uk

Tyne and Wear

Corbridge
Corbridge Roman Fort and Museum
Corbridge
NE45 5NT


Tel : 01434 632349

Newcastle on Tyne
Museum of Antiquities
The University
Newcastle on Tyne
NE1 7RU

Website : www.ncl.ac.uk/antiquities
Email : m.o.antiquities@ncl.ac.uk


Tel : 0191 222 7549

Fax : 0191 222 8561

South Shields
Arbeia Roman Fort and Museum
Baring Road
South Shields
NE33 2BB


Tel : 0191 456 1369

West Midlands

Coventry
The Lunt Roman Fort
Coventry Road
Bagintori (off the A45 & A 46)

for party bookings and other enquiries:
Coventry Museums Service
c/o Herbert Art Gallery and Museum
Jordan Well
Coventry CVI SOP
Website : www.coventry.org/coventrymuseums
Email : ann.walker@coventry.gov.uk









Tel : 024 7683 2565
Fax : 024 7683 2410


West Sussex

Bignor
Bignor Roman Villa
Bignor
Pulborough
RH20 1PH


Tel : 01798 869259

Fax : 01798 869259

Wiltshire

Devizes
Wiltshire Heritage Museum
41 Long Street
Devizes
Wiltshire
SN10 1NS
Website: www.wiltshireheritage.co.uk
Email: wanhs@wiltshireheritage.co.uk



Tel : 01380 727369

Fax : 01380 722150

Yorkshire

Rotherham
Templeborough Fort
Clifton Park Museum
Clifton Lane
Rotherham
S65 2AA
Website : http://www.rotherham.gov.uk
Email : wendy.foster@rotherham.gov.uk



Tel : 01709 823635

Fax : 01709 823631

Scotland

Falkirk
Kinneil Museum and Fortlet
Kinneil Estate
Bo'ness

Contact
Falkirk Museums
Callendar House
Callendar Park
Falkirk
FK1 1YR
Website:www.falkirkmuseums.demon.co.uk







Tel : 01506 778530

Fax : 01324 503771

Glasgow
Hunterian Museum
The University
Glasgow
G12 8QQ

Tel :041 330 4221

Fax : 041 330 3617