Recipe for
Streptikios artos
(Plaited bread)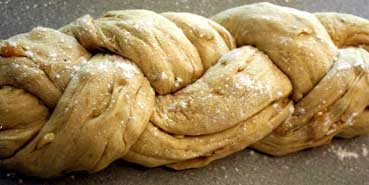 by Athenaeus, The Deipnosophists
Yeah, go ahead and click here to buy this book!
Roman Cookery: Ancient Recipes for Modern Kitchens.

Yes, this book has a new cover, but I like this one better. Blah, I am so horrible.
AFAIK, this recipe comes from Grant and was inserted by original site author (I will say again to PLEASE buy these author's books! By doing so, you will help support them — even for books that are older and might not sell as well anymore... These authors do not do this for money, they do it for love. Please support them!
The Greeks were the first to know how to make an easy, tasty and crusty loaf of bread. We don't actually know what sort of pattern was used in this Roman version and it seems needless to elaborate.
The pepper, of course, makes this very much a savoury bread, although it is also tasty when spread with honey. Substituting lard for olive oil stresses the uncertain nature of food supplies before the modern era.
There are two reasons for the use of goat's milk in this and other recipes: the first is the predominance of goats over cows in Roman times, particularly in the lands around the Mediterranean; the second is the flavour, the sharpness of this milk adding a necessary piquancy to the dough.
Original recipe:
Translation: Twisted bread is made with a little milk, and there is added pepper and a small amount of olive oil; or if not oil, then lard.
Ingredients
600 g/17 oz wholemeal flour
150 ml/5fl oz warm water
1½ tsp dried yeast
1 tsp sugar
200 ml/7fl oz goat's milk
60ml/2fl oz olive oil
1 tsp ground pepper
1 egg-white
Preparation
Dissolve the sugar in the warm water.
Sprinkle on the dried yeast and whisk.
Cover with the cling film and leave in a warm, dry place for 15 minutes.
Mix all the ingredients together in a large mixing bowl.and knead for 5 minutes until the dough is firm to the touch..
Cover the mixing bowl with cling film and allow the dough to rise for 2 hours.
Knead the dough again and separate into three equal sections.
Roll out the sections into 30 cm/12"lengths.
Make a plait, pressing gently at the centre to prevent the loaf from breaking up.
Place the loaf on a greased baking tray and cover loosely with a plastic bag to allow the dough to rise again.
After about one hour glaze the loaf with the beaten egg-white and bake for 40 minutes at 200°c/400°f Gas mark 6.
Serve with a savoury dip.