Recipe for Basyniai
(Walnut and Fig Cakes)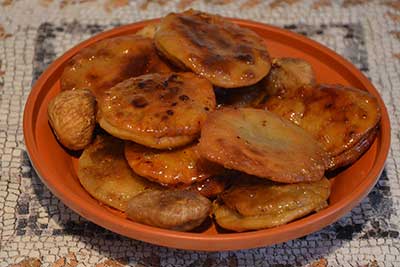 by Athenaeus The Partying Professors
Yeah, go ahead and click here to buy this book!
Roman Cookery: Ancient Recipes for Modern Kitchens.

Yes, this book has a new cover, but I like this one better. Blah, I am so horrible.
AFAIK, this recipe comes from Grant and was inserted by original site author (I will say again to PLEASE buy these author's books! By doing so, you will help support them — even for books that are older and might not sell as well anymore... These authors do not do this for money, they do it for love. Please support them!
It is not clear exactly what the dried fig and three walnuts are doing in this recipe. Are they there to merely flavour the honey? Or are they added to the cake itself? The numbers suggest a religious symbolism, which my prosaic interpretation has rendered as a proportion rather than an exact number. Iris was the rainbow goddess and with their golden exterior and dark filling these cakes are certainly colourful.
Original recipe:
Translation:Semus, in the second book of his History of Delos, states: "On the island of Hecate the people of Delos offer to Iris what are called basyniai. These consist of dough made from wheat flour cooked with honey and the so-called kokkora, namely a dried fig and three walnuts.
Ingredients
200 g/7 oz light white flour
60 ml/2 fl oz olive oil
80 ml73fl oz water
75g/3 oz walnuts
25g/l oz dried figs
80 ml/3fl oz olive oil
80 ml/3fl oz clear honey
Preparation
Put the poppy seeds and ground nuts on a baking tray and place under a hot grill for 5 minutes, turning them over occasionally to prevent them from burning.
Put the sesame seeds in a bowl.
Puree the figs and dates in a blender and add the nut mixture and pepper to the dried fruits and blend until they are it looks and feels like a dough.
Pour the honey into a pan and bring to the boil. Boil for 3 minutes or until the honey begins to darken.
Mix the flour, olive oil and water in a large mixing bowl. Knead until you have a smooth dough and add more water or flour if needed.
Gather up into a ball and place in a plastic bag for one hour.
Finely grind the walnuts and figs in a blender.
Roll the pastry out as thinly as possible on a floured surface. Using a cutter with a 6 cm/2½" diameter cut the pastry into rounds. Place a teaspoon of the walnut and fig mixture on one round. Brush water around the edge of another round pinch the edges of the two together. Repeat until all the pastry has been used.
Heat the olive oil in a large frying pan and fry the pastries until they are crisp and golden on both sides, then drain.
Simmer the honey in a pan and, as it bubbles, then toss in the pastries so that they are coated.
Serve warm.