Recipe for Hapalos Artos
(Soft bread)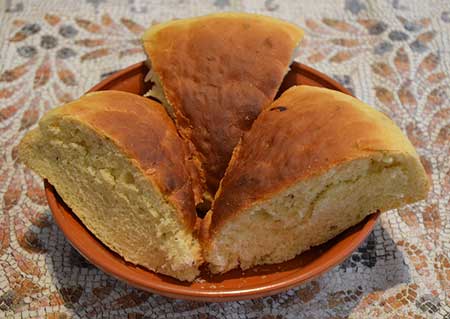 by Athenaeus The Partying Professors
Yeah, go ahead and click here to buy this book!
Roman Cookery: Ancient Recipes for Modern Kitchens.

Yes, this book has a new cover, but I like this one better. Blah, I am so horrible.
AFAIK, this recipe comes from Grant and was inserted by original site author (I will say again to PLEASE buy these author's books! By doing so, you will help support them — even for books that are older and might not sell as well anymore... These authors do not do this for money, they do it for love. Please support them!
Hapalos artos is a traditional recipe from ancient Rome that wil allow one to make a classic, fine bread. This recipe appears in the book Deipnosophistae of Athenaeum.
For the Greeks, it was a bread they called 'soft' and it was made with a little milk and enough olive oil and salt. The dough should be spongy.
Original recipe:
Translation: Amongst the Greeks is a bread called "soft" which is made with a little milk and sufficient olive oil and salt. The dough must be made supple. This bread is called "Cappadocian" since for the most part "soft" bread is made in Cappadocia. The Syrians call such bread lakhma and in Syria this bread is delicious through being eaten warm.
Ingredients
400 g/14 oz strong white flour
125 ml/ ¼ pint warm water
I½ tsp dried yeast
1 tsp sugar
60 ml/2 fl oz olive oil
75 ml/3fl oz warm milk
½ tsp sea salt
Preparation
Dissolve the dried yeast in the warm water, then add the sugar. Leave for 15 minutes until a froth appears on the surface.
Put the flour in a large bowl, mix in the salt and shape a dip in the centre. Fill this with the yeast water, olive oil and milk.
Mix the flour and water to make a dough, kneading firmly for about five minutes. Add a little more flour or water if necessary to achieve firm dough.
Smear a 1lb baking tin with oil and line with flour
Press the dough into the bottom of the tin. Seal the tin with cling film and stand in a warm place for one hour.
Bake in an oven at 200°c/400°f/gas mark 6 for about 40 minutes. The loaf will have a pale crust and a soft body.