Recipe for In mitulis (Seasoned mussels)
by Apicius IX, IX, 418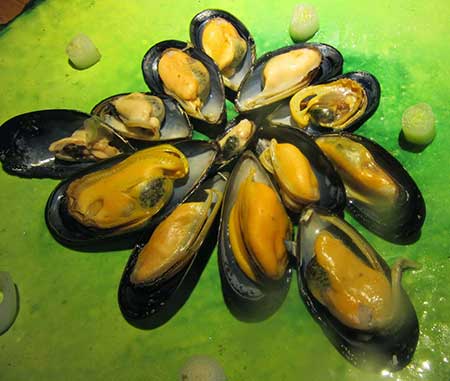 Roman food focuses heavily on a few flavors, but the tough part is finding dishes that variy and don't just lump on the fish sauce, vinegar, and honey.
Original recipe: Liquamen, porrum concisum, cuminum, passum, satureiam, uinum. Mixtum facies aquatius et ibi mitulos coques.
Translation: For mussels: fish sauce, chopped leek, cumin, raisin wine, savory, wine; add water to the mixture and cook the mussels in it.
Ingredients
Mussels
Chopped leek
Cumin
Red or white wine
Preparation
Wash the mussels thoroughly and remove all the sand.
Blend all the ingredients in a pot, then cook slowly until the mussels are tender.