Red lentils and leeks
with sweet and spicy seasonings
(Aliter lenticulam)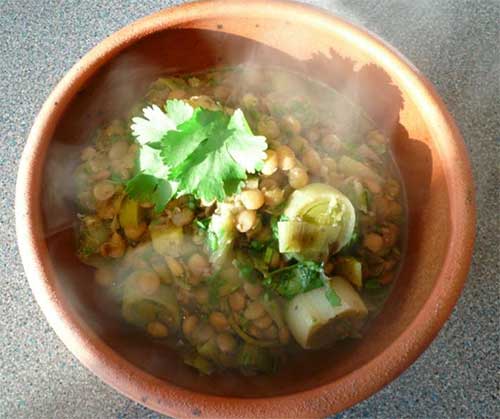 Apicius V, II, 3
Pottage of red lentils and leeks. A very popular dish at demonstrations. The sweet and spicy blend of seasonings it a perfect complement to the lentils. Lentils of different types were quite common in Roman Italy but we know of only one type in Britain from this period. An archaeological dig in London revealed the remains of burnt red lentils.
Original recipe: Coquis. Cum despumauerit, porrum et coriandrum uiridem supermittis. coriandri semen, puleium, laseris radicem, [semen] mentam et rutam, suffundis acetum, adicies melle, liquamine, aceto, defrito temperabis, adicies oleum, agitabis. Si quid opus fuerit, mittis. Amulo obligas, insuper oleum uiridem mittis, piper aspargis et inferes.
Translation: Cook the lentils, skim them, strain, add leeks, green coriander; crush coriander seed, pennyroyal, laser root, mint seed and rue seed moistened with vinegar; add honey, broth, vinegar, reduced must to taste, then oil, stirring the purée until it is done, bind with roux, add green oil, sprinkle with pepper and serve.
Ingredients
½ lb. brown lentils
3 medium-sized leeks
2 T. olive oil
2 T. white wine vinegar
1 heaped T. set honey
1 T. defrutum
1 oz. coriander seed
¼ t. asafoetida powder
3 tsp chopped fresh mint or 2 tsp dried mint
3 T. fish sauce
large handful green coriander (½ bunch), chopped
1 t. chopped fresh or dried rue
emmer flour to thicken
generous freshly ground pepper
Preparation
Soak lentils in water overnight, drain and cover with fresh water, or you can use white wine instead for a richer mix.
Bring to the boil and simmer till just beginning to soften.
Add the cleaned and sliced leeks and continue cooking.
Add the olive oil, vinegar, honey and defrutum.
Dry-roast the coriander seeds and asafoetida, grind to a fairly coarse powder, add to the pan.
Add the dried mint (if using instead of fresh green leaves).
When fully cooked, add the fish sauce and the fresh coriander, rue and mint.
Bring back to heat, thicken with a little flour, sprinkle with freshly ground pepper and serve.