Sweet and sour turnips
(Rapas sive napos)
Apicius III.XIII.1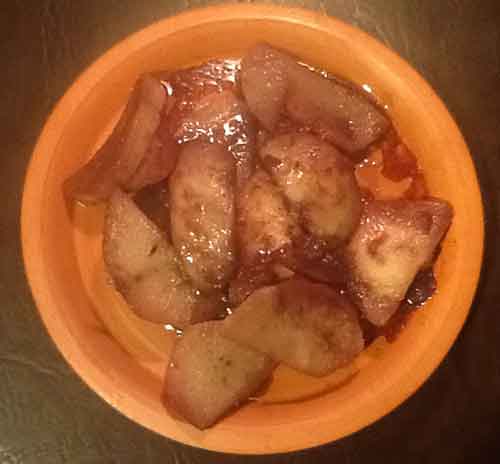 about text
Original recipe: Rapas sive napos: Elixatos exprimes, deinde teres cuminum plurimum, rutam minus, laser parthicum, mel, acetum, liquamen, defritum et oleum modice. Fervere facies et inferes.
Translation: Turnips or (European) ramps: Once they are boiled, squeeze the excess liquid from them, then grind a generous amount of cumin, a smaller amount of rue, Parthian laser, honey, vinegar, garum, defrutum, and a bit of oil. Bring to a boil and serve.
Ingredients
2 lb. turnips
ample cumin
a pinch of rue, to taste
1/8 teaspoon asafoetida (Parthian laser)
1 tsp. honey
½ cup vinegar
1 Tbs. garum
1 Tbs. defrutum
1-2 Tbs. olive oil
Preparation
Peel and boil the turnips. Drain, slice, and arrange in a casserole with a sauce consisting of the cumin, rue, asafoetida, honey, vinegar, garum, defrutum, and olive oil.
Heat for several minutes to steep, then serve.