Recipe for
Sweet and sour turnips
(Rapas sive napos)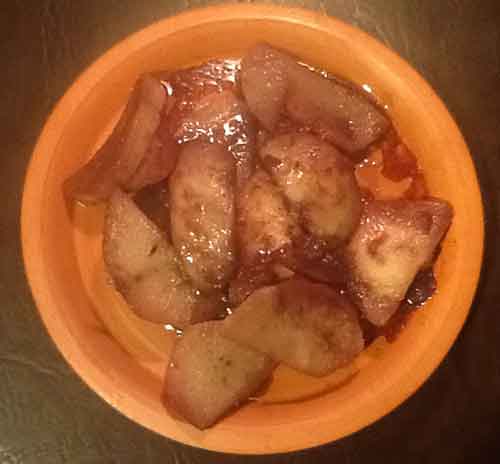 Apicius III.XIII.1
While they're both root vegetables packed with nutrients, parsnips and turnips are not quite the same—parsnips are similar to carrots and have a sweet, candy-like flavor profile. Turnips, on the other hand, are in the Brassica rapa family and are much less sweet. They can be eaten raw like radishes, or cooked (turnip greens are very popular) and are often served mashed or roasted alongside other root vegetables. Turnips often have a deep purple hue with a white top—but there are many varieties. They're often bitter and can be harvested as "baby turnips" to maintain a milder taste if you're looking to eat them raw.
Parsnips have a sweet, nutty taste and can easily be substituted for carrots in any recipe. You'll know you've found them at the farmers market when you're eyeing a vegetable that looks like a large white carrot. They are great for pureeing into soups or stews for added creaminess and can also be used to add moisture to baked goods (similar to banana or zucchini bread).
Original recipe: Rapas sive napos: Elixatos exprimes, deinde teres cuminum plurimum, rutam minus, laser parthicum, mel, acetum, liquamen, defritum et oleum modice. Fervere facies et inferes.
Translation: Turnips or (European) ramps: Once they are boiled, squeeze the excess liquid from them, then grind a generous amount of cumin, a smaller amount of rue, Parthian laser, honey, vinegar, garum, defrutum, and a bit of oil. Bring to a boil and serve.
Ingredients
2 lb. turnips
ample cumin
a pinch of rue, to taste
1/8 teaspoon asafoetida (Parthian laser)
1 tsp. honey
½ cup vinegar
1 Tbs. garum
1 Tbs. defrutum
1-2 Tbs. olive oil
Preparation
Peel and boil the turnips. Drain, slice, and arrange in a casserole with a sauce consisting of the cumin, rue, asafoetida, honey, vinegar, garum, defrutum, and olive oil.
Heat for several minutes to steep, then serve.