Whole fava beans
(Faba Integra)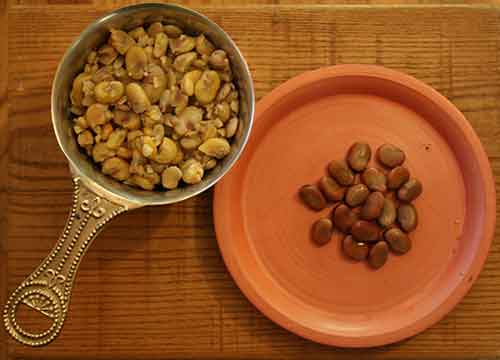 from Anthimus, On Foods
about text
Original recipe:
Translation: Whole broad beans when properly cooked both in stock and in oil are better with seasoning or salt than chopped beans, because the latter burden the stomach.
Ingredients
1 lb. dry peeled fava beans
2 quarts beef or vegetable stock
1 Tbsp. olive oil, plus extra for seasoning
Sea salt
Preparation
To 1 lb. of dry beans add 2 quarts of of stock and olive oil and bring to a boil for 2 minutes.
Reduce the heat and simmer the beans with the lid on for 20 minutes or until they are tender.
This dish likes to stand: when the beans are almost cooked, turn off the heat and leave the beans to marinate for an hour in the stock and olive oil.
Bring to the boil again just before serving.
Season with olive oil and sea salt.
If you can't find peeled dried fava beans, you can use unpeeled favas (but it is not recommended, unless you are doing a living history demo and have a lot of time to peel each bean while you are talking to the crowd!)
Boil 2 quarts of water in a pan and stir in the beans.
Boil for 10 minutes, drain and rinse in cold water.
Peel and discard the outer skins.
Put the peeled beans back in the pan with enough beef broth or stock and the olive oil and bring to a boil.
Simmer until the beans are tender (which should only take a few minutes) and most of the stock is absorbed.
Season before serving, or provide olive oil and sea salt for your guests to season to taste.
One lb. of dried favas will make about 6 cups (48 oz) of cooked beans.
For a feast with several courses or multiple dishes this is enough for 12 servings, or 6 servings as a side dish for a dinner.
It will feed 3 really hungry soldiers as a one-pot camp meal, and is especially tasty when a small amount of the salt pork or ham ration, and and a chopped leek, are fried together in olive oil and added to the cooked beans.