Recipe for Aliter Carduos Artichokes
(Artichokes Cooked in Herbs)
by Apicius III, XIX, 2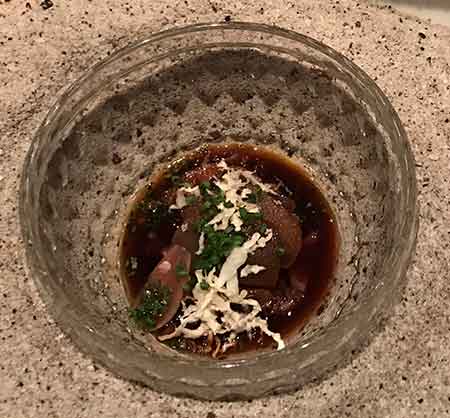 Original recipe: Rutam, mentam, coriandrum, feniculum, omnia uiridia teres. Addes piper, ligusticum, mel, liquamen et oleum.
Translation: Grind rue, mint, coriander, and fennel. [Make certain that these herbs are] all fresh [and mix them well]. Add pepper. lovage, honey, stock, and oil.
Ingredients
3-4 young artichokes (Italian, NOT Globe)
pinch of rue (or rosemary)
2 fresh mint leaves (or 1tsp. dried)
¼ tsp. coriander seeds
Pinch of fennel seeds
¼ tsp. pepper
½ tsp. lovage (or celery seed)
2 tsp. of olive oil
1 cup vegetable stock or water
( 2 tsp. honey)
Preparation
Cut off the artichoke stems, remove the tough bottom leaves and trim ½ inch from the tips of the remaining ones
Place in a pan standing on their trimmed tops with the stalks pointing up, with enough water and wine to come half way up the artichokes (half way up the bulb not including the stem).
Grind together the rue (or rosemary), mint, coriander, fennel, pepper, and lovage (celery seed).
Add to olive oil and stock. (To make the sweet dressing, add honey)
Bring to the boil and simmer gently for 10 minutes to blend flavors..
Serve with the steamed artichokes.