Recipe for
Ova spongia ex lacte
(Honey omelette)
by Apicius VII, XIII, 8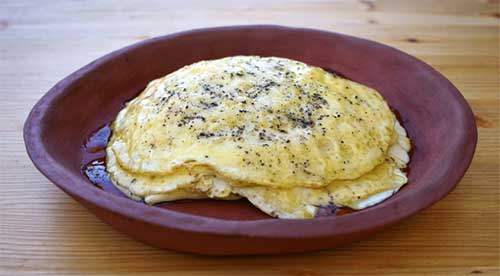 Yeah, go ahead and click here to buy this book!
The Roman Cookery of Apicius
AFAIK, this recipe comes from Edwards and was inserted by original site author (I will say again to PLEASE buy these author's books! By doing so, you will help support them — even for books that are older and might not sell as well anymore... These authors do not do this for money, they do it for love. Please support them!
here is an omelette fit for a Caesar, or at least a Roman senator, or you... It's an ancient recipe for something that we still make today, but with a sweet twist to it. I'm guessing that you have pretty much everything for this recipe in your modern-day kitchen. Why not give it a go and taste some ancient comfort food?
Original recipe: ova quattuor, lactis heminam, olei unciam in se dissolvis, ita ut unum corpus facias. in patellam subtilem adicies olei modicum, facies ut bulliat, et adicies impensam quam parasti. una parte cum fuerit coctum, in disco vertes, melle perfundis, piper adspargis et inferes.
Translation: four eggs, one tumbler-full of milk, an ounce of olive oil, in the dissolve together, are one body: so that thou shalt do. add oil in a thin little, bring it to boil, and add expense to prepare. when it has been boiled at all with the one hand, in a dish, you pour some honey, pepper adspargere, and thou shalt bring in.
Ingredients
4 eggs
½ c. milk
4 tbsp butter or olive oil
2 tbsp honey
cinnamon or nutmeg
Preparation
Take the eggs, milk and butter (oil) and combine
Pour a little oil into a frying pan and heat.
When the melted butter begins to bubble, pour in the eggs and cook the omelette. Do not fold.
Serve with honey (warmed) poured on top and a sprinkling of cinnamon or nutmeg
add ¼ cup of coice mushrooms prepared with coriander and wine.