Roman recipes:
Olusatra
(Celery with raisin sauce)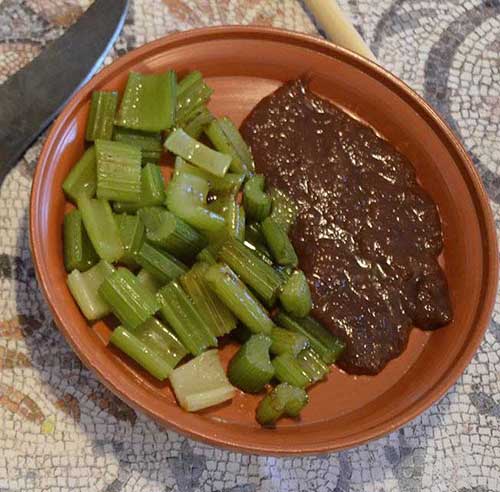 By Collumella, Res Rustica
Yeah, go ahead and click

here

to buy this book!

Roman Cookery

: Ancient Recipes for Modern Kitchens.

Yes, this book has a new cover, but I like this one better. Blah, I am so horrible.

AFAIK, this recipe comes from Grant and was inserted by original site author (I will say again to PLEASE buy these author's books! By doing so, you will help support them — even for books that are older and might not sell as well anymore... These authors do not do this for money, they do it for love. Please support them!
This recipe actually calls for the plant Alexanders, Smyrnium olusatrum — not celery. Alexander's is an umbelliferous plant growing up to five feet high whose original habitat was the Mediterranean, although it is now found all over Europe on Wasteland and by the sea.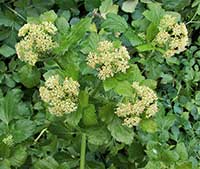 <<< Left: Thumbnail of alexanders in the wild...
Alexanders resembles celery in both appearance and taste. Since Alexander's is not available in supermarkets, the author (Grant) uses celery in this recipe. The accompanying sauce is an excellent not only with vegetables other than celery, such as carrots or peas, but also with slices of a cheese like cheddar or Caerphilly.
As Alexanders isn't readily available in most places, celery is often substitued. IF one would like to grow Alexanders, seeds are available from seedaholic.
Original recipe:
Translation: Carefully clean the alexanders so that it does not have any soil on it. Put it in vinegar and salt. After 30 days take out and peel off and throw away the skin. Chop up the inner part and put into a glass jar or a new earthenware pot and add a liquid, which should be made as detailed below. Take mint, raisins and a small dried onion. Purée these with some parched meal and a little honey. When these have been properly puréed, combine with one part of sapa or defrutum to one part of vinegar. Pour this into the jar and seal with a lid.
Ingredients
1 head of celery
100g/3oz raisins
60 ml/2fl oz red wine -vinegar
60 ml/2fl oz sapa
1 tbsp clear honey
2 tsp dried onion flakes
1 tsp spelt flour sea salt (optional)
Preparation
Wash and chop the celery and then steam gently until it is tender.
Soak the raisins in the sapa and vinegar for 1 hour and then add to the celery and other ingedients.
Puree them in a blender until very smooth.