Roman recipes
Pastinacae
(Fried Parsnips)
By Anthimus: On Foods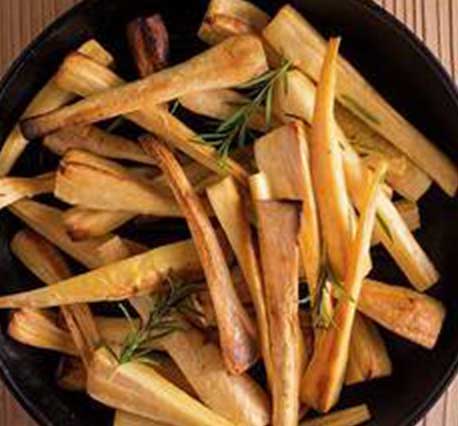 Yeah, go ahead and click
here
to buy this book!
Roman Cookery
: Ancient Recipes for Modern Kitchens.
Yes, this book has a new cover, but I like this one better. Blah, I am so horrible.
AFAIK, this recipe comes from Grant and was inserted by original site author (I will say again to PLEASE buy these author's books! By doing so, you will help support them — even for books that are older and might not sell as well anymore... These authors do not do this for money, they do it for love. Please support them!
The parsnip is native to Eurasia; it has been used as a vegetable since antiquity and was cultivated by the Romans, although some confusion exists between parsnips and carrots in the literature of the time. Modern carrots are different than in Roman times — for one thing, they were white and purple (not orange — a product of medieval breeding), which is why they are referred to with parsnips in recipes and, they had a more woody center. Parsnips were used as a sweetener before the arrival in Europe of cane sugar.
Original recipe:
Translation: Parsnips and carrots are good when boiled well and mixed in other dishes. They are also diuretic. If the are eaten fried, parboil them first in water.
Ingredients
500g/1 lb carrots
Olive oil for frying
Sea salt (optional)
Preparation
Wash and peel the carrots, cut them into strips and steam gently for 10 minutes.
Heat the oil in a frying pan and fry the carrots until they begin to turn brown.
Serve hot, sprinkled with salt if you wish.