Roman recipes
Patina ex lacte
(Patina of Fish, Poultry
and Sausage in Cream)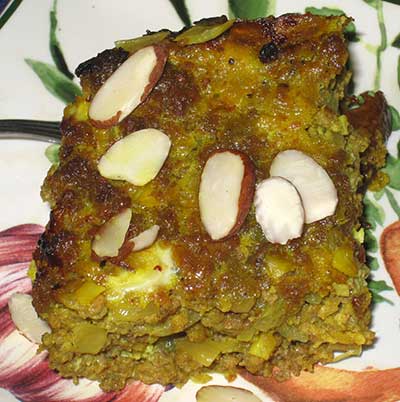 by Apicius IV, 140
The dish Patina ex lacte consisted of a mixture of cooked meat and pine nuts seasoned with pepper, celery seeds and asafoetida cooked until the flavors were blended, then covered with a top layer of eggs and milk and cooked until the top layer had set. Over the centuries it has evolved into what can be considered one of the national dishes of South Africa: Babotie... give it a try.
Original recipe: Nucleos infundes et siccas - echinos recentes iam praeparatos habebis -, accipies Patina, et in eam compones singula infra scripta: mediana maluarum et betarum et porros maturos, apios, holus molle, haec uiridia elixa, pullum carptum ex iure coctum, cerebelIa elixa, lucanicas, oua dura per medium incisa. Mittes longaones porcinos ex iure Terentino farsos, coctos, concisos, iecinera pullorum, pulpas piscis aselli fricti, urticas marinas, pulpas ostreorum, caseos recentes. Alternis compones, nucleos et piper integrum asparges. Ius tale perfundes: piper, ligusticum, apii semen, silfi. Coques. At, ubi cocta fuerit, lactem colas, cui cruda oua commisces ut unum corpus fiat, et super illa omnia perfundes. Cum cocta fuerit, echinos recentiores, piper asparges et inferes.
Translation: Soak pignolia nuts, dry them, and also have fresh sea-urchins ready. Take a deep dish casserole in which arrange the following things in layers: medium-size mallows and beets, mature leeks, celery, stewed tender green cabbage, and other boiled green vegetables, a disjointed chicken stewed in its own gravy, cooked calf's or pig's brains, Lucanian sausage, hard boiled eggs cut into halves, big Tarentinian sausage sliced and broiled in the ashes, chicken giblets or pieces of chicken meat. Bits of fried fish, sea nettles, pieces of stewed oysters and fresh cheese are alternately put together; sprinkle in between the nuts and whole pepper, and the juice as is cooked from pepper, lovage, celery seed and silphium. This essence, when done, mix with milk to which raw eggs have been added pour this over the pieces of food in the dish so that the whole is thoroughly combined, stiffen it in the hot water bath and when done garnish with fresh mussels, sea-urchins, poached and chopped fine; sprinkle pepper over and serve.
Ingredients
4 oz (100g) shelled pine kernels
1 hake fillet per person
2 leeks, chopped
2 sticks celery, chopped
1 ib (450g) spinach, cooked to a puree
8 oz (225g) cooked, sliced chicken breast
4 oz (100g) sliced salami
4 hard-boiled and halved eggs
8 oz (225g) pork sausages,
3 shelled cooked and chopped oysters or 1 can smoked oysters in oil per person,
2 oz (50g) grated cheese
1 oz (25g) peppercorns
½pt (275ml) milk
A pinch of each of:

pepper
lovage
celery seeds

1 drop asafoetida essence
2 eggs, beaten
Sea urchins, to garnish (if desired)
Preparation
Soak the pine kernels, and let them dry.
Fry the hake fillets.
Take a shallow ovenproof dish and laythe leeks, celery, spinach puree, chicken, salami, hard-boiled eggs, sausages, oysters and cheese in layers.
Sprinkle the pine kernels and peppercorns over the top.
Put the milk in a saucepan, add the pepper, lovage and celery seed, and bring to the boil.
Add the asafoetida essence and remove from the heat.
Mix in the beaten eggs, then pour the sauce over the patina and cook in a moderate oven, gas mark 4. (350°f, 180°c)
If desired, garnish with the sea urchins