Roman Recipes
Pullum Frontonianum
(Browned Chicken Frontinian)
By Apicius VI, VIII, 246
Pullum Frontonianum which translates to "Chicken a la Fronto", so named for a Roman author of a lost treatise on agriculture. The ancient Romans cooked very much like Italian cooks do today or to be more precise, like Sicilian cooks. If you can imagine a contemporary Italian meal without tomatoes, eggplants, peppers, corn polenta or pasta. Sound bleak? It wasn't. The ancients had a myriad of other ingedients to use — and they did!
One other thing, the Romans would not have served the chicken whole, like we do today, more like it would be chopped or broken into pieces. The Romans didn't use/have forks...
Original recipe: pullum praedura, condies liquamine, oleo mixto, cui mittis fasciculum anethi, porri, satureiae et coriandri uiridis, et coques. ubi coctus fuerit, leuabis eum, in lance defrito perungues, piper aspargis et inferes.
Translation: A half-cooked chicken marinaded in a pickle of broth, mixed with oil, to which is added a bunch of dill, leeks, satury and green coriander. Finish it in this broth. When done, take the chicken out, dress it nicely on a dish, pour over the sauce, colored with reduced must, sprinkle with pepper and serve.
Ingredients
1 chicken, cut into parts
Olive oil or butter
To make the sauce
Pinch of aniseed
Coriander
Olive oil
Chicken stock
Chives
White wine
Ground pepper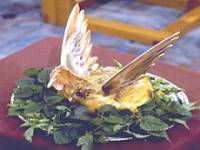 Browned Chicken Frontinian
(The finished product)
Preparation
Brush chicken with olive oil or butter.
Roast for 30 minutes in a very hot oven to brown the meat.
When done continue cooking the bird in the sauce until done.
To make the sauce
Grind aniseed and coriander in a bowl.
Mix with olive oil, stock and chives.
Put in a cooking pot with the browned chicken parts, and cook till done, basting from time to time.
(If you wish, add white wine to the mixture at this point
Serve the chicken in the sauce with a sprinkling of pepper.