Recipe for Zomos
(Butter beans in herb sauce)
from Heidelberg Papyrus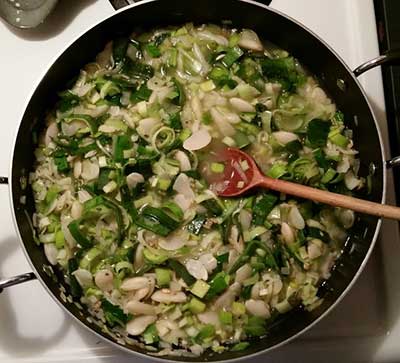 AFAIK, this recipe comes from Grant and was inserted by original site author (I will say again to PLEASE buy these author's books! By doing so, you will help support them — even for books that are older and might not sell as well anymore... These authors do not do this for money, they do it for love. Please support them!
Yeah, go ahead and click
here
to buy this book!
Roman Cookery
: Ancient Recipes for Modern Kitchens.
Yes, this book has a new cover, but I like this one better. Blah, I am so horrible.
The classical world ate a diet rich in vegetables. But where the Greeks ate fairly simple recipes, the Romans spared no effort (or expense) in the complexity of their greens or the variety of their spices. Grab your nose plugs, open the nearest window, have a ready glass of water, and get ready for some herbed herbs!
History has forgotten what this sauce should actually accompany, but Mr. Grant recommends butter beans. The original recipe describes two different cooking methods, depending on how stern your stomach is. Suitably warned by Plautus, we opted for the more gentle taste. This is a typical mixture of greens for a Roman dish. we found it very good, though we prefer the similar Leek and Barley Soup (below). we recommend keeping the room well ventilated while preparing this dish.
Original recipe:
Put wheat groats, coriander, leeks, onion, dill, basil and a little aniseed into a mortar. Boil on the stove and moisten with water, wine, garum and wine vinegar all mixed together. When it has boiled and you are about to take it off the the heat, sprinkle on someground pepper. Some people make it slightly sharp with wine vinegar by pouring over a little, and then remove it from the fire; but others boil everything when the wine vinegar has been added, and by adding green herbs they make it ready to serve.:
*A good copy and version of this recipe is at this website:
http://musingsmmst.blogspot.com
/2015/06/trial-by-spice-testing-stomachs-and.html
Ingredients
6 oz/175g dried butter beans
1 onion 2 tbsp olive oil
1 leek 60ml/2floz white wine
3 tbsp wheat flakes
1 tbsp garum
A handful of coriander leaves
½ tsp dried dill tops
½ tsp dried basil
500 ml/1 pint water
1 tbsp white wine vinegar
A pinch of aniseed
Sea salt
A handful of fresh parsley (optional)
Preparation
Soak the butter beans overnight.
Boil them in salted water for 30 minutes.
Take a heavy pan and fry the onion in the olive oil until it is soft, then finely slice the leek and put it in the pan along with all the other ingredients except for the parsley.
Bring to the boil and then simmer on a very low heat for an hour.
The wheat flakes will thicken the sauce, as will the beans.
Chop the parsley and sprinkle it over the sauce just before serving.