Roman recipes:
Upper Classes, sorted by course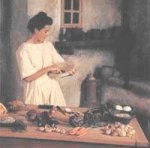 The Roman upper classes were noted for their variety of foods and recipes and on this page is a listing of the recipes we have on our site. Reading through these recipes and then, perhaps, trying them yourself, will allow you to get a flavour of Roman cooking.
Some of these ancient recipes are mouth-watering. Some are unusual and some are, well, really cringeworthy...
Index to recipes of the common people and the Military (coming soon)
Appetisers (Gustatio)
Main courses (Primae Mensae)
Accompaniments to the main course
(Some of these may also be used as a first course)
Desserts (Secundae)
Sauces
Snacks
Breads and Cakes and Pastries
---
Pages
References: